17/9/22
Billy Mayerl and a burst water main!
A lovely audience at St. John's Church Harrow for my all-Billy Mayerl recital today made all it all worthwhile! My previous day was spent telling people of the burst water main (making the front entrance to the church inaccessible) and the day of the concert was long – hours spent driving up the M25 and after the concert going to Westminster to pay respects to the Queen!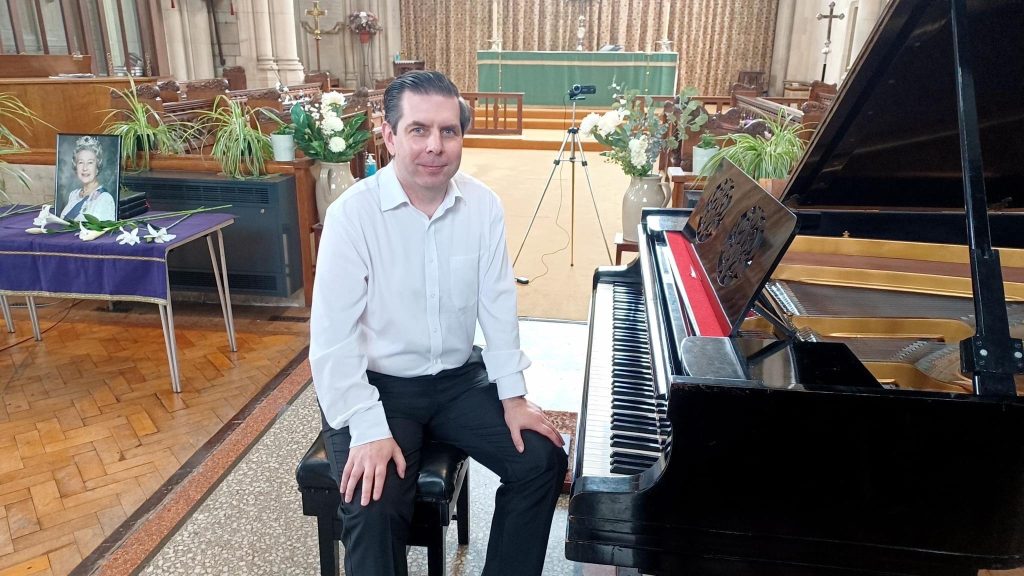 8/9/22
At the Proms with the Philadephia Orchestra on the day HM Queen Elizabeth passed away.
My wife and I were privileged to be in attendance of the Prom at the Royal Albert Hall with the Philadelphia Orchestra on the day it was announced that Queen Elizabeth II had passed away. Unfortunately the Philadelphia's two concerts had to be cancelled. However, at the request of the BBC, conductor Yannick Nézet-Séguin and the orchestra gathered on stage. Following a minute's silence they performed the National Anthem and 'Nimrod' from Elgar's Enigma Variations. It was a moving tribute and a historic moment. How appropriate that this tribute fell to this great and iconic American orchestra. America helped preserve our way of life, a way of life our Queen represented from just after World War II.
Thanks so much to Ryan Fleur, a pleasure meeting you, and the Philadelphia Orchestra. I hope we will see you all at the Proms again very soon.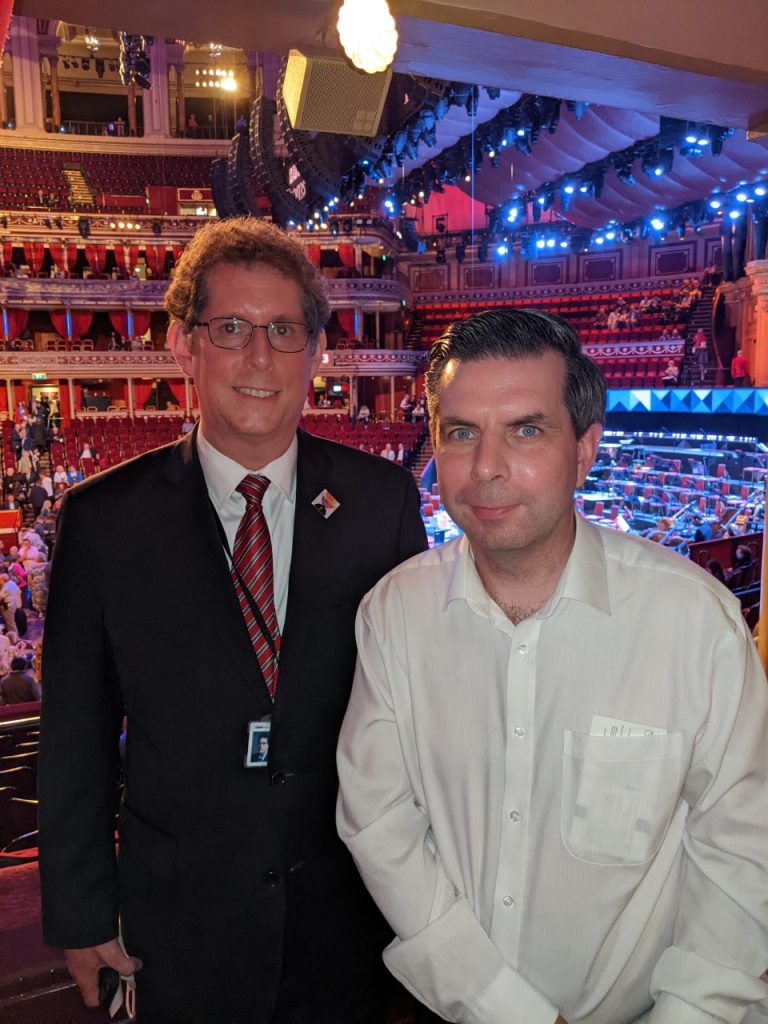 8/9/22
Setting up my Kawai Shigeru piano.
Many thanks to Yoichi Houe – MPA-Master Piano Artisan at Kawai who was visiting from Japan with Neil Sale – Sales Director of Kawai UK – for the setting up of my Shigeru SK5 piano. It is an amazing instrument and after the service sounds and feels unbelievable! Much appreciated that you came out to us in East Sussex on such a rainy day!
It was a pleasure to talk to Neil about Billy Mayerl, Gershwin, Dudley Moore. Richard Clark fine playing in Fats Waller's style, Guy Roland and Harry Engleman! Pleased I could play some Chopin for Yoichi as a thank you – it just had to be the Raindrop Prelude with weather like that!
Photo: Steve Law with Shigeru technician Yoichi Houe and Neil Sale, head of sales for Kawai UK.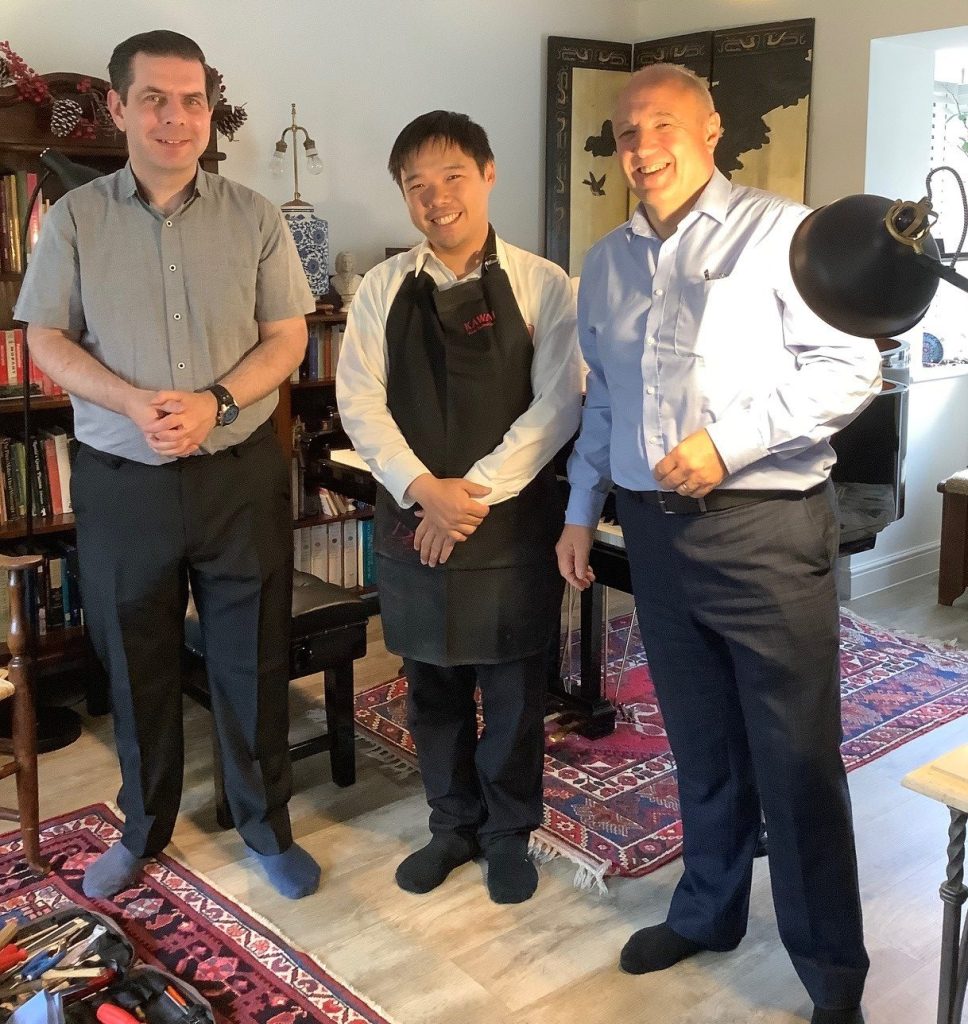 28/7/2022
Recording my new Piano Concerto with the Royal Scottish National Orchestra conducted by David Watkin with pianist Jospeh Havlat.
My wife and I attended at the Glasgow Royal Concert Hall on this day to have my piano concerto recorded by Parma Recordings. Huge thanks to pianist Joseph Havlat, who is a brilliant talent and played magnificently with great musicality. David Watkin was also a joy to work with. He is also an acclaimed cellist and head of strings at the Royal Conservatoire of Scotland. He did a wonderful job and I saw how his expertise in music aesthetics was so useful and important when communicating to an orchestra over interpretation. I was blown away with the playing and musicianship of the Royal Scottish National Orchestra. Also a big thanks to Grammy award winning producer Brad Michel from Parma Recordings for his amazing ear and expertise, and the skilful studio technicians and staff at the concert hall. Everyone was friendly and made me feel very welcome. Thanks for a memorable day! Thank you all for your hard work and creativity!
Thanks also to conductor Dominic Grier for rehearsing the concerto with the Worthing Philharmonic in February and for recommending Joseph who is an exceptional pianist!
Listen to the recording here –
1.1.21
Writing a modern tonal piano concerto
It took me many years to feel comfortable writing a piano concerto.  I loved the genre from the moment I discovered classical music and have strong feelings about which are the greatest works and why, so it was tough to compose a concerto that satisfies me.
It is a work that I feel represents what I have tried to do in my music over the last 20 years.
I made several attempts at writing a concerto in two piano score when I was about 15. These early efforts were consistently destroyed or revised but they took the interest of my music teacher at school.
I slowly came to accept that my concerto had to be written on my own terms and in my own voice. I could not mimic the greatest concertos by the greatest composers but I could write a piece that expressed me fully and that I love to listen to. Hopefully audiences will find it immediately enjoyable and memorable.
My love of piano concertos began when I was 14, hearing the last movement of Gershwin's Concerto in F played brilliantly by Peter Donohoe on the 50th Anniversary tribute programme on the BBC called The Gershwin Years. I had already composed some ragtime pieces but Gershwin became my inspiration and gateway into the world of classical composers. Andre Previn's LP with the LSO was and still is the most magical recording I have heard.
Having attempted to write a Gershwin-like concerto I then heard Rachmaninoff's Paganini Rhapsody at the Leeds Piano Competition played by Marconio Baroni in 1987. It was a brilliant performance and a work that changed my perception again about what a piano concerto could be. There was also a great performance of Rachmaninoff's second concerto by Vladimir Ovchinnikov.
My parents had an old LP of Richter playing Prokofiev's first concerto and I heard Prokofiev's 3rd concerto on the BBC's European Young Musician programme played by Leif Ove Andsnes in the final. Jon Kimura Parker's recording with Previn and the RPO was the most beautiful I found.
Another influence was an early Hungaraton LP by pianist Zoltan Kocsis of the Bartok concertos 1 and 2. Kocsis was still in his teens when he made the recording, but this early version of the first concerto is still my favourite.  Kocsis was the greatest player of Bartok in my opinion.
The great tonal concertos are inspired from start to finish; they have memorable melodies, inventive writing, excitement and great interaction with the orchestra.  The language of the composer has to be unique and concisely written to their needs, with no cheap imitations of other composers. They are works of great depth as well as music and technical virtuosity.  
The greatest 20th century composers of tonal concertos –
Rachmaninoff wrote the most romantic concerti, the 3rd being the ultimate example. His piano writing stretches the imaginative possibilities of piano writing; he was the master pianist-composer of his time. Pianists love the technical challenges which encompass every inch of the keyboard with myriads of notes. His writing is always pianistic and within the romantic piano tradition. His mastery of counterpoint and orchestration are deceptive, as is the originality of his harmonies. Rachmaninoff was concerned with finding beautiful and moving things and there is an underlying darkness and mystery in another layer.
With Prokofiev, we have the most original writing for the piano and a Mozartian level of invention. His piano writing is challenging in a new athletic way, although the percussive element is often exaggerated by pianists. The cadenza in his second concerto is arguably the greatest written and the third concerto is the perfect modern piano concerto written in his mature compositional style. The orchestra takes on a far greater and more equal role in concertos 3-5. Prokofiev was the ultimate 'ideas composer', his works are rich with original ideas and melodies. He did not need to rely on mathematics to rethink harmony, he had an instinctive ear that was years ahead of most people at the time.  
Bartok's concertos show a technique arguably greater than Stravinsky and a unique style permeated with folk music. He was certainly the inspiration to many 20th Century composers, not least Ginastera. His first concerto, though perhaps looking a messier and more problematic score, is probably his greatest and most original. The first two concerti in particular create especially exotic and magical soundscapes. There is great orchestration and counterpoint.
Gershwin's Concerto in F deserves to be in the top category for its magical inspiration and originality. It has been the target of academic snobbery over the years, not least for its construction. But music does not have to conform to anyone's expectations, it just has to work. The form and flow of ideas in Gershwin's Concerto clearly works brilliantly. It also feels like an important musical representation of the 1920s with its optimism and Charleston rhythms. He was both a popular song writer of his day and the creator of his own brand of art music.  Gershwin's piano works are brilliantly written for himself to play without excess or pretence. They draw upon novelty piano techniques as well as romantic and modern piano figurations. There is an economy to his composition and a sureness of purpose that is common in great composers.
Just underneath these concerti I would place those by Ravel and Shostakovich along with the first movement of Stravinsky's Concerto for Piano and Winds.
There are other fine piano concerti by Barber, Poulenc, Copland, Shchedrin, Ginestera, Khachaturian and Tippett. Kapustin was a phenomenon and his concerti are dazzling- though they can feel hyper-active and unrelenting.
Other great 20th century composers have written piano concertos which don't represent their best work in my opinion – Britten and Vaughan-Williams spring to mind. There are good works by British composers like Bliss, Leighton and John Ogden. I have no idea why Leighton chose to end his first concerto with a Tchaikovsky chromatic octave run up the piano. The coda of Ireland's attractive Concerto is an outrageous plagiarism of Prokofiev's Third Concerto. It highlights the difficulty of coming up with a stunning and original ending. Rawsthorne's first concerto sadly wastes a magnificent and original opening and descends into frivolous material.
Simply processing the technique and rhetoric to write a piano concerto does not guarantee the creation of something original and memorable.
The treatment of the piano in my concerto is melodic and rhythmic. There is more substance in my music than empty virtuosity. It is music that reflects the popular music I grew up listening to and it belongs in my lifetime rather than looking backwards. Composing, for me, is like sculpture; chipping away and perfecting each work. I believe in quality, not quantity.
Writing a good enough ending was my stumbling block for many years.  The greatest ending to any piano concerto – Prokofiev's 3rd – is tough to follow, but I had always wanted to save something special for the end and to drive the rhythm right to the last bar. Once I had written a good ending, the prospect of writing the concerto became more of a reality.
The sustained inspiration of the work benefits from containing some choice material composed over the last 20 years – a longer period than Prokofiev compiled his third concerto – about 10 years!
The first movement is a shorter re-working of an earlier discarded sonata from 20 years ago. I liked the idea of an unpretentious start. The easy listening quality of some of Dudley Moore's piano playing had an influence. A descending half tone whole tone scale becomes an important shape for the second movement theme and the last movement's central theme.
The two main themes and their associated ideas are catchy and romantic. The second theme is based on repeated notes. The movement develops with more intensity towards the end and climax. The main development is placed after the recapitulation. It feels as if fear grows gradually into the music.
The second movement is more serious and melancholy, with a theme in the key of B minor. The first variation is sad and tender. The second is brief and begins with sombre counterpoint. This leads to the third variation which is dark and meditative, using flowing scales, often a sixth apart. The fourth variation begins lighter in mood. The fifth is a gently rocking and spacious 3/4 time based on ostinato patterns. The sixth variation is a tumultuous flurry of semi quaver accompaniment. It builds to a climax and the music calms and slows into the coda which is a short reprise of the theme. The music links into the start of the third movement after a breath.
The third movement begins with a series of slow, tender string chords. The opening theme of the concerto is then hinted at. Then we hear an Allegro theme – which is derived from the end of the second movement theme. This appears like a rondo theme with other ideas and development sandwiched between. The central section develops the descending scale motif from the first movement into an expansive and sweeping theme –one of my favourite tunes Reunion.
The final coda section begins with a minimalist which expands the Allegro theme, followed by new variations of earlier themes. One prominent rhythm is used in canon and combined with the chord sequence the slow opening to the third movement. But this time, the sequence cadences in into a happier mixolydian tonality.
The triumphant final section of the concerto subtly brings back the outline of the opening of the first movement. There is a combination ideas from the first and last movements with changing time signatures. There is a false ending before the final climax.
Working with themes economically and homogeneously is something Sibelius loved to do. The themes undergo journeys like characters in a book and accumulate significance and meaning with each transformation. That is what classical music does but I think of my music as a kind of intellectual pop music which can none the less be immediately enjoyed and understood.