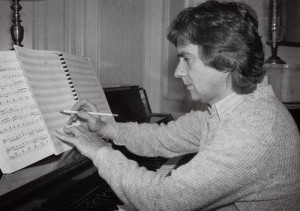 As a music student at Bristol University in 1992 I heard, and recorded from the radio, a fantastic concert by given by the comedian, musician and Hollywood actor Dudley Moore at the Royal Albert Hall. I had seen Dudley playing jazz on the classic BBC comedy TV show 'Not Only But Also' with Peter Cook from the 1960s but I was bowled over by this concert.
He played jazz standards and one original piece with his trio (with Peter Morgan on bass and Chris Karan on drums), conducted and performed his own music with the BBC Concert Orchestra from films he also starred in, played other piano compositions and some of his well know parodies of famous composers. As if that wasn't enough he also played Gershwin's Rhapsody In Blue and the slow movement "Elvira Madigan" from Mozart's Piano Concerto No.21 in C.  This was all done with apparent ease and interspersed with funny commentary and anecdotes.
I was particularly moved by his compositions. They struck a connection with me. I was blown away with the musicality of his jazz playing.
Dudley was firstly a musician. He was an organ scholar at Magdalene College Oxford in the 1950s. He was a fine classical pianist, composer and sight reader but became better known for his jazz playing and comedy. His musical personality was as distinct as his comedic voice. It was amazing that he found time to do all these things brilliantly and give happiness to millions of people in so many different ways.
In 1998 I read that Dudley was not well. There were many rumours in the press and I wasn't sure what was true. I felt compelled to write and let him know how much his music was appreciated. I made and dedicated a piano transcription of the music from the film Bedazzled which he played at the 1992 concert and sent it to his agent Louis Pitt.  I also dedicated a song 'It isn't even if' from my opera Heaven On Earth which contained a nod at the influence his music had on me.
A year later he phoned me out of the blue and asked if I could meet him in London during a visit to his first wife Suzy Kendall. I was very excited to do so but was sad to have recently learnt that tragically Dudley had been diagnosed with a rare, progressive and incurable brain disease called Progressive Supranuclearpalsy. This affected his movement, speech and coordination which meant he could no longer play the piano. I was shocked to see how it affected him but somehow Dudley had not lost his magnetic charisma, charm and generosity of spirit. I was so glad to have the chance to tell him how great I thought his music is.
I also met the distinguished pianist and writer Rena Fruchter who, with her musician Brian Dallow – also a musician – were friends of Dudley and had selflessly taken him into their home to look after him during his final illness. 
I had not realised how deeply Dudley felt about his album Songs Without Words. Had I have realised (he was listening to the album when he died in 2002) I would have transcribed it sooner. Songs Without Words is a collection of beautiful and sophisticated jazz influenced piano compositions with subtle synth backings (with two guest solos by saxophonist Kenny G). Some are taken from film music, others are themes or improvisations Dudley had not written down.
Following Dudley's death Rena asked me to transcribe two pieces from the album for a memorial service I attended in Magdalene College in 2002. Following this I transcribed the whole album. I did the most meticulous I could for Dudley it was published by Faber in 2010.