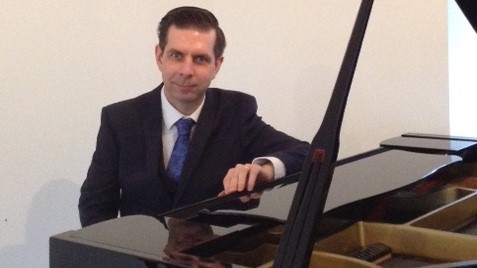 Steve Law BA, MMus (Bristol University)
Welcome to my teaching page.
I'm an experienced DBS enhanced checked piano teacher. I live in East Sussex with my wife and I've been teaching piano, keyboards and theory for over 20 years.
All ages are welcome from beginners to advanced, for exams or for fun. I teach beginners in a fun and easy to understand way. I'm down to earth and patient and I aim to make pupils feels at ease.
I've coached many piano pupils to success in ABRSM and Trinity Board exams up to diploma standard as well as electronic keyboard and music theory. I've also coached GCSE to A grade.
I have a wide range of knowledge on classical, jazz and pop music covering interpretation, theory and composition.
I aim to ensure pupils can read music in both hands and understand the basics of keyboard harmony. I encourage all styles and will help pupils play their favourite pieces or songs. I've made many arrangements for pupils which I hope have inspired them to play. If you have your heart set on playing a particular piece of music I can help!
I have presented regular pupils' concerts to encourage performing, develop confidence and allow pupils to share their music.
My experience includes teaching classes of children aged 5 to 16 in schools, churches and community centres in and around London.
As an accompanist I've worked at independent schools like St Helens, Northwood and Northwood College for dance classes and exams and the Margaret Howard Theatre College in Watford. I have accompanied for many dance schools including the Royal Academy of Dance and Cygnets to Swans.
I also accompany for St. Thomas' Church, Groombridge, East Sussex.
If you would like to enquire about lessons, please contact me below:
You can also contact me through my Facebook teaching page:
http://facebook.com/stevelawpianoteacher
Testimonials
My daughter has been learning piano with Steve for just under 2 years now. In that time my daughter has made huge progress and most importantly is enjoying learning to play the piano. Steve is an incredibly professional and patient teacher. He has always managed to make piano lessons fun and manageable for my daughters skill level. In every lesson he emphasises the positives and the mistakes are corrected with great tact and empathy. So my daughter always ends a lesson happy and motivated to practice.
Bal, Parent
The way Steve teaches makes the lessons fun and interesting for my daughter. You really need a lot of patience when working with youngsters and he definitely has what it takes. She enjoys taking lessons with him, and I'm very impressed with the way he teaches her. She practices on her own at home and I love hearing her progress. Steve is a great teacher and I would suggest him to anyone.
Sylvia, Parent
Steve has been teaching my daughter from complete beginner from about the age of nine. He is an excellent teacher and very good with young children.  My daughter is now nearly 13 years old and Steve's good work continues. In addition to the usual grading syllabuses he has been doing some off syllabus work with her (a new arrangement of Mamma Mia!)
Alan, Parent
Steve has taught my children for many years, taking them to Grade 8 and 5 Piano and introducing a variety of genres to increase their musical enjoyment. The concerts organised for students taught by the Steve gives them an important opportunity to perform in front of an audience. I am looking forward to their future progression as they explore music with Steve's patient direction.
Richard, Parent
Steve Law has taught keyboard to my older son to grade 7 and he is currently teaching my younger son grade 5. During these years I have come to know him very well. Steve is an extremely reliable and an excellent teacher of keyboard and piano.
He has a very calm helpful nature when teaching students and has a rare quality to tailor his lesson to each individual student. He is an outstanding teacher of music and I would recommend him highly.
Mrs V Chandarana
Terms and conditions
If you are happy to proceed after an initial lesson, pupils must commit to their time slot for that half term period during school term time.
Payments
For lessons during school term time – on week days after school – I ask that payment be please made for each half term period in advance. This will ensure continuity and will reserve that time slot for that period.
I will invoice for this at the start of each half term.
There will two options on the invoice:
includes a lesson during half term or
a retainer fee of 50% of the half term lesson for those wishing to take a break. This will also reserve your lesson day and time for the next half term period.
I do not ask for a retainer during the summer holiday. Lessons in this period can be arranged with more flexible times by mutual agreement.
I teach all year round, with 2 weeks break at Christmas, Easter and at some point during the summer school holiday.
A bank transfer is preferred, but I am also happy to accept cash and cheques.
Cancellations
Lessons cancelled, forgotten or missed due to illness unfortunately cannot be refunded.
If I need to cancel a lesson, it will be rescheduled at a time to suit the pupil. If that is not possible it will be refunded.
If pupils having face to face lessons have any symptoms of a cold – coughing, sneezing, nose blowing or sore throat –  please reschedule the lesson with me.
If a pupil shows symptoms of having a cold during a face to face lesson, I may choose to end that lesson.
I will not give a lesson if I have cold symptoms and will always test for COVID.
Communications
I can only respond to communications during working hours – 10am to 7pm Monday, Tuesday, Wednesday and Friday and 10am to 6pm Saturdays.
Thank you.
2023-2024 terms dates:
Autumn – Winter Term 1
Tuesday 5th September – Friday 20th October (7 weeks)
Half Term (23rd – 29th October)
Autumn – Winter Term 2
Monday 30th October – Friday 15th December (7 weeks)
Christmas Holidays 
Spring Term 3
Wednesday 3rd January – Friday 9th February (7 weeks)
Half Term (12th -18th February)
Spring 2 Term 4
Monday 19th February – Thursday 28th March (6 weeks)
Easter Break  
Summer Term 5
Monday 15th April – Friday 24th May (6 weeks)
Half Term (27th May – 2nd June)
Summer Term 6
Monday 3rd June – Friday 19th July (7 weeks)
Exams and scholarships
I coach pupils towards exams from either of the two main syllabuses – Associated Board and Trinity Board. These exams cover the curricular levels set in upper schools for scholarship level of music. I can give recommendations and references for achievements of this calibre. Exam grades also tie in closely with requirements of schools, colleges and universities. RQF credits can be achieved and good passes at Grades 6, 7 and 8 will contribute UCAS points students need when applying for university.
https://gb.abrsm.org/en/our-exams/information-and-regulations/exam-regulation-and-ucas-points/
New video exams – remote assessment
ABRSM have recently added a performance exam where candidates upload 4 performances on a continuous video with no technical work, sight reading or aural tests required.  No doubt the introduction of these new performance exams have been hastened by the changing landscape caused by COVID19. This is a permanent and equally valid alternative to the traditional syllabus which has itself been revised with less technical work. Both carry equal RQF credits.
Likewise, Trinity Board also offer an online video exam as an alternative to the traditional exam.
Theory exams for ABRSM grade 1-5 are now online, (no written papers)
ABRSM have radically changed theory exams to online multiple choice questions for grades 1 to 5.
However, written papers will still be needed for grades 6 to 8 which cover figured bass and Bach chorale harmonisations in preparation for Baroque composition for A level and university level.
Grade 5 theory is required before entering grade 6 practical at ABRSM but not at Trinity. If you know your grade 5 theory well you will essentially have most the theory you need to know for playing the piano.
Pupils' Concerts
Encouraging children to perform
As a performer I am keen to encourage our pupils to perform and share their music with others.  Family, friends and other pupils can all attend pupils concerts. These friendly concerts are aimed at helping a pupil's motivation and confidence. It is important to get used to playing in front of people and to enjoy the excitement of live music. It's also a good excuse to eat chocolate cake! My wife and I hire a local hall and organise refreshments. Christmas concerts are always a lovely occasion.
Music is one of the most enjoyable and fulfilling things we can do in life.
Easter Concert 2023
Wednesday 29th April 6.30pm at Ticehurst Village Hall, East Sussex
Well done to all my pupils for playing so well and making it such a lovely occasion!
Christmas Concert 2021
Thursday 16th Decemeber, Ticehurst Village Hall, East Sussex 6pm.
Well done to all my pupils for playing so well and musically. So glad we could put the concert at a difficult time.
Christmas Concert 2019
Ruislip piano pupils Christmas concert to be on Friday December 13th in St. Paul's Church, Thurlstone Road, Ruislip 6.30pm!